Community Health Improvement Plan (CHIP)
NEW 2019-2024 Community Health Improvement Priorities
---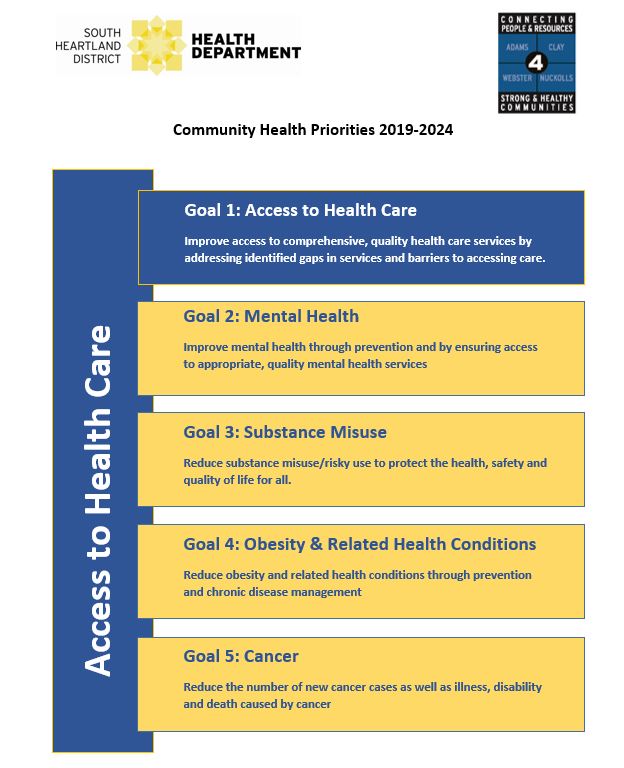 This document contains Evidence-Based Resources, State/Region/National Strategic Plans and data to help address the identified 5 priority areas
---
Help Us Review Data and Provide Input
Thank you for contributing to and participating in our community priority setting process. Two things you can do: Review Our Data and Provide Input/Comments. This opportunity will be available through December 31st, 2018.
This will help us improve the health of our community and plan for the next 6 years. 
Priority Setting Meeting #1- Access to Care
Priority Setting Meeting #2- Health Issue Prioritization 
Contains initial pages of background data and all ten fact sheets.
Individual Data Fact Sheets with input/comment survey: (You may choose to comment on some or all of the following ten health issues)
---
The Community Health Improvement Plan, CHIP, is developed from the Community Health Needs Assessment.  Priority Goals are developed to address determined priority areas of need. 
Collaborative work groups:
(1) assess data and trends to
(2) develop objectives and strategies to
(3) implement interventions