COVID-19 Risk Dial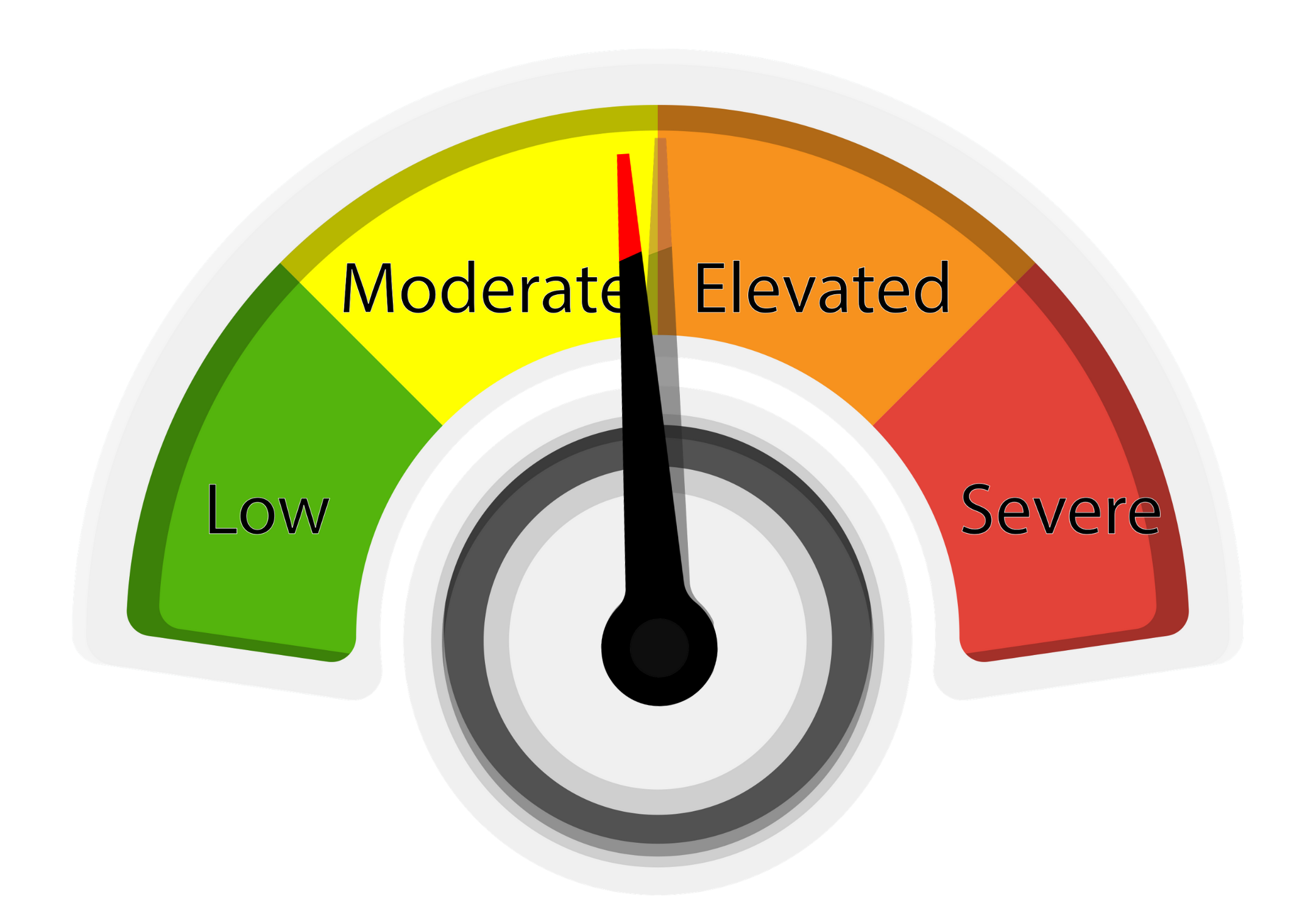 What is Happening Now?
This COVID-19 Risk Dial provides a summary of current conditions in the South Heartland District. The Risk Dial is just one tool that can help residents know the general risk of COVID-19 spread in the health district (Adams, Clay, Nuckolls and Webster counties).
The Risk Dial Guidance provides action information for each risk level (color), incorporating federal and national guidance published by top public health experts. There is specific guidance for the general public and for at-risk and vulnerable populations in various settings, including at home, or outside the home (at work, in social settings, or in public). This is only guidance and does not replace federal, state, or local directed health measures. At-risk and vulnerable populations should take stringent precautions. Click on the links below to view the Risk Dial Guidance.
February 24, 2021 Risk Dial Update: 
The risk dial summary score is 1.9, in moderate risk. Residents and visitors are encouraged to review the level-specific recommendations that go along with the yellow risk level and take actions now to reduce the spread of the virus that causes COVID-19.
31 positive tests reported to SHDHD for the week ending February 20 (decreased to average 4.4 positive tests per day)
14-day average of new daily cases decreased to 12 per 100,000 for week ending February 20 (Goal = less than 8 per 100,000)
Net decrease in weekly cases from the previous week = 31%
Overall weekly positivity (percent positive tests in community and long term care) was 3.9%, decreased from 5.5% the previous week 
Testing turnaround time stable: 70% of tests were reported within 2 days of sample collection
2/24/21 SHDHD Hospital Dashboard: 2 COVID-positive patients in hospitals (decrease); one ventilator in use for COVID patients
2/24/21 SHDHD Hospital Dashboard: 8% of inpatients are COVID positive (decrease); ICU bed availability is 82% (better)
6,873 doses of COVID-19 vaccine administered as of 02/24/21 (does not include long term care facility staff or residents)
Cumulative Vaccination Totals by Dose (does not include long term care facility staff or residents):

4,840 individuals received a Primary Dose of COVID vaccine (9.7% of the district's population)
2,033 individuals received their Booster Dose (3.8% of the district's population is fully vaccinated)
Understanding the Data in the Risk Dial - Coming SOON!
General Community Guidance and Recommendations
At Home

Physical Distancing AT HOME

 * No distancing for people without symptoms, unless they are under quarantine as a result of being exposed to someone who is infected

 * Self-isolation of symptomatic persons

 * Outdoor activities with distancing are acceptable.

Face Coverings AT HOME

 * No face coverings for people without symptoms, unless they are under quarantine as a result of being exposed to someone who is infected

 * Face coverings for symptomatic people

 Hand Washing AT HOME

 * Frequently wash hands for at least 20 seconds, especially after touching high contact surfaces, sneezing/coughing/touching face, or before eating

Illness Monitoring AT HOME

 * Monitor for COVID-like symptoms

Disinfecting AT HOME

 * Enhanced disinfection, especially for high contact surfaces (door/other handles, light switches, bathroom fixtures)

Outside the Home

Physical Distancing OUTSIDE THE HOME
 * Consider staying at home most of the time, with caution for non-essential travel and work 
 * Distance at least 6 feet from anyone outside the home
 * Work from home if possible
 * Individual outdoor activities such as walking, biking, etc. are acceptable
 * Cautious expansion of interactions with others, outdoor activities preferred
 * Gatherings only with modifications for COVID-19
 * Events only as guided by SHDHD
Face Coverings OUTSIDE THE HOME
 * Face coverings recommended when unable to distance
 * Face coverings for symptomatic people
Hand Washing OUTSIDE THE HOME
 * Frequently wash hands for at least 20 seconds, especially after touching high contact surfaces, sneezing/coughing/touching face, or before eating
 * Use hand sanitizer when handwashing is inaccessible or infeasible
Illness Monitoring OUTSIDE THE HOME
 * If ill with Flu-like or COVID-like symptoms, stay at home
 * Minimize contact with symptomatic people
 * Daily temperature checks at work
Disinfecting OUTSIDE THE HOME
 * Avoid bare hand contact with any high touch surface
 * Use barrier such as paper towel or clothing when bare hand contact is unavoidable
 * Wash hands or apply sanitizer after touching high contact surfaces
 * Enhanced disinfection, especially for high contact surfaces (door/other handles, light switches, bathroom fixtures)

At-Risk and Vulnerable Populations

For adults over age 65, anyone with underlying health conditions, and other populations at heightened risk from COVID-19:
 * Stay home as much as possible
 * Rely on help for needs outside the home (groceries, medications, etc.)
 * Distance from those working outside of the home
---