E-Cigarette Policy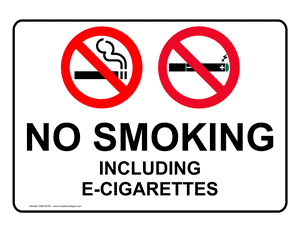 To our Community, Business, Educational, Health Care and Governmental Partners: On May 7, 2014, the Board of Health for South Heartland District Health Department adopted a resolution encouraging policy change to prohibit the use of electronic cigarettes in public places.  Our staff created a simple toolkit to assist you as you consider reviewing, adopting and/or implementing tobacco or smoking policies that include electronic cigarettes. This Electronic Cigarette Policy Toolkit contains:
Ten Steps of policy success
Three sample workplace policies
A sample government-owned building policy
A model ordinance
Example Definitions of electronic cigarettes
An overview of electronic cigarettes, their dangers and their regulation
A list of resources about electronic cigarettes
A "No Smoking Including Electronic Cigarettes" Sticker
The PDF version is now available.
If you have any questions or would like technical assistance in developing or revising your organization's policy, please contact us by e-mail (mail@shdhd.org) or by phone 1-877-238-7595 or 402-462-6211. Each policy adopted by our partners moves us closer to our vision of Healthy People in Healthy Communities!