Health Literacy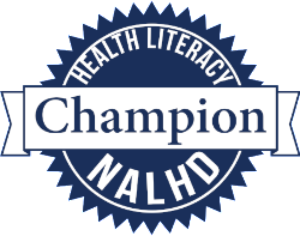 What is Health Literacy? 
According to the National Institution of Health,  health literacy refers to how well a person can get the health information and services that they need, and how well they understand them. It is also about using them to make good health decisions. More than 90 million adults in the United States have low health literacy. It affects their ability to make health decisions. This can harm their health. They may have trouble managing chronic diseases and leading a healthy lifestyle. They may go to the hospital more often and have poorer health overall.
South Heartland is a health literacy champion by the work we do with our community partners and clinic partners to increase the awareness of what health literacy is and provide tools to make written, spoken and visual materials more health literate. 
Patient or community resources and tools to ensure you are receiving health information you can understand

Resources for providers offices to ensure they are assessing their health literacy of their patients and providing information they can understand.
"The primary responsibility for improving health literacy lies with public health professionals and the healthcare and public health systems. We must work together to ensure that health information and services can be understood and used by all Americans. We must engage in skill building with healthcare consumers and health professionals. Adult educators can be productive partners in reaching adults with limited literacy skills " ~ health.gov., Health Literacy Fact sheet